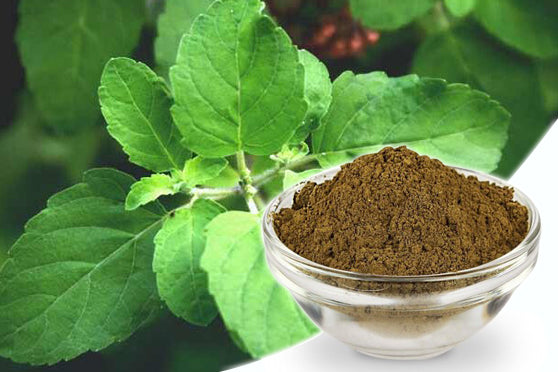 Nov 22, 2020
by

Neil Chotai
Tulsi or Holy Basil is one of the most sacred plants in the world. In the Sanskrit language, the word Tulsi signifies "the incomparable one" and it is true also. It is one of the plants with immense spiritual and medicinal popularity. This is the main reason that it is revered as "The Queen of Herbs" and "Mother Medicine of Nature". It's antimicrobial, anti-allergic and anti-inflammatory properties make it a perfect home remedy for treating cold, improving gut health, eye health to immunity. Traditionally, people enjoy drinking Tulsi tea as the first beverage in the morning. You can even buy Tulsi leaf powder online and mix it in water and drink it as a detoxifying drink in the morning. 
Tulsi Origin
Though it is grown in the entire world, its country of origin is India. As per Ayurvedic texts, three different kinds of Tulsi exist: Shyama Tulsi having purple leaf, Rama Tulsi with green leaf and Vana Tulsi having wild leaf.  All kinds of Tulsi are used in Ayurveda, Rama Tulsi is the most widely used and popular one also. Its taste is excellent and leaves are attractive. Some of the popular cuisines, which extensively used Tulsi leaves are Thai, Laotian, Vietnamese, Italian and Indian. Some of the popular synonyms of Tulsi are Thai Basil, Raihan, Apetrakshsi, Ocimum Sanctum, Gauri, Dohsh to name a few.  
Methods to Use Tulsi or Basil in Cooking
If you are planning to use Basil in cooking, it is necessary to use organic basil leaves for getting the desired taste and obtaining the required health benefits.
Make any food flavourful as well as visually appealing by garnishing curries with Tulsi leaves.
You can even use Tulsi leaves as topping on pizzas. You might be surprised to hear that people of Western Countries buy Tulsi leaf powder online and add it in very little quantity over sandwiches, meat and pizzas to relish its unique taste. 
For preparing the salmon sauce, Tulsi leaf works wonder. Add the leaves along with lemon and olive oil.
Soup lovers add Tulsi leaf or its powder in vegetable soups, especially during the winter season.
Method of Consuming Tulsi Leaf Regularly
There is no harm in consuming a few of Tulsi leaf regularly. You can either drink a Tulsi tea by adding two or three leaves in boiling water. Either drink this herbal tea or you can even swallow these leaves. If you like eating raw basil leaves, make it a point to eat organic basil leaves only and chew them properly. If you neither want to chew leaves and nor want to drink it as a herbal tea, the third option is to buy Tulsi leaf powder online and add it in water. The powder is equally nutritious.
Method of Storing Tulsi Leaves
It is a standard practice to store Tulsi leaves for later use. The method is simple and even easy to follow:
Pluck the leaves from the Tulsi plant and wash them properly to remove all dirt and dust.
Dry them completely by placing them in the natural sunlight for a few minutes.
Wipe them with cotton and dry cloth and wait for the week's time.
Once, they get dehydrated, store these dried leaves in an airtight container and use them as per your requirements. 
Though Tulsi leaf has miraculous healing properties, it does not suit everybody. There are certain side-effects of Tulsi posing health issues to a few people. Thus, some important precautions necessary to follow while consuming Tulsi leaf are:
Consuming Tulsi leaves may increase bleeding time. Thus, people with bleeding disorders should not consume Tulsi in any form without consulting with their healthcare professional.
The pregnant as well as breastfeeding women are not allowed to take Tulsi. It is because during pregnancy, chewing or taking Tulsi may stimulate uterine contractions and may increase the risk of abortion. Similarly, breastfeeding women should take Tulsi after consulting with their gynecologists only.
If you are diabetic and taking anti-diabetic drugs, then avoid taking Tulsi. The reason is just like anti-diabetic drugs, even Tulsi monitors the blood glucose level of the body. So, consuming both things simultaneously may do more harm than good to the body. 
If you are not experiencing any of these conditions, enjoy the massive benefits of Tulsi. For buying Tulsi leaf powder online, always look for reputed
online sources
dealing with organic items only.