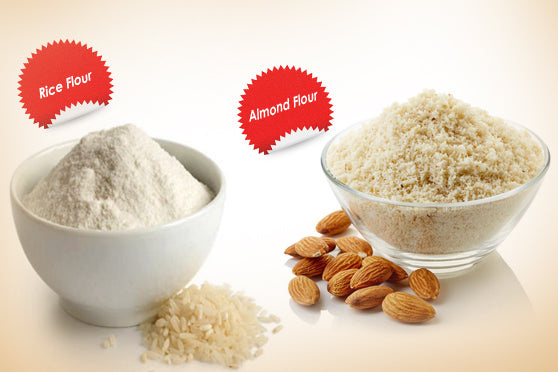 Jan 26, 2021
by

Neil Chotai
Flour is one of the most important ingredients in baking. If you have chosen the right flour, it is easy to prepare lip-smacking cookies, cakes, and bread. Professional chefs use all-purpose flour, cake flour, and bread flour to prepare delicious recipes. But did you know that it is easy to prepare these sweet dishes with flours like almond or rice flour? Yes, you heard that right! Both these flours are equally healthy and easily available online. So, if you are ready to do an experiment in your home kitchen, buy these flours online from the UK based grocery store and be ready to surprise your family members.
Starting with almond flour, it is protein-rich flour which is extremely healthy. A perfect alternate to wheat flour, almond flour is gluten-free and ideal to consume by those people who are allergic to gluten. Also known as almond meal, you can either buy almond flour online from UK based grocery store or can even prepare your own flour by grinding almonds in a food processor. The few popular dishes must try with almond flour are:
Pancakes: Usually people use self-rising flour for preparing pancakes but almond flour is a good choice. The flour has a subtle nutty flavour that makes it a perfect ingredient to prepare healthy and delicious pancakes.
Pasta: If your family members enjoy feasting on pasta, prepare it at home by replacing one-third of wheat flour with almond flour. It will make your pasta healthy and add a gluten-free touch to it which even old age people can relish.
Almond Cake: Just like other cakes, even almond cake is a retreat and gives a unique taste to the palate. A must to try a recipe, do remember to use different ingredients in the right quantity to get the right softness and flavour.
Now, moving on to other flour, which is rice flour or rice powder. This flour contains finely milled rice and considered a staple in Japan, India and Southeast Asia. Mostly, people prefer eating rotis of rice flour along with various curries. However, you can even prepare cookies, pasta and cake by buying organic rice flour online from the UK based convenience store. Now, let's uncover some of the recipes worth trying with rice flour:
Cheesy Hearts: If you love cheese, you will definitely like this recipe. The main ingredients of the recipe are finely grated cheddar, brown rice flour, baking powder and chia seeds soaked in water. The recipe is as follows: preheat oven to 200 degrees C and lightly grease the baking sheet and keep it aside. Place all aforementioned ingredients in a bowl and make dough of the same. Flatten the dough and keep it in a refrigerator for 15-20 minutes. Remove the dough from the refrigerator and immediately cut with a metal cookie cutter. After that, place them on the baking sheet and bake it in an oven for 10-12 minutes.
Modak: Another popular dessert worth trying with rice flour is modak. These are sweet dumplings commonly consumed during the Ganesh Chaturthi festival in India. Though sweet lovers can prepare it anytime. These sweet dumplings have an amazing taste as they contain stuffing of jaggery, coconut, saffron and nutmeg and afterward steamed to perfection.  
If you are successful in trying these recipes and willing to experiment more with other kinds of flour, you can buy sorghum flour online to relish sorghum rotis. Popular known as juwar flour, it is healthy and contains minerals like potassium, phosphorus, iron and calcium. Another best feature of the flour is it is entirely gluten-free and a rich source of antioxidants also. So, if you love eating traditional food items like curries, rice and rotis, give it a try to juwar roti.
The recipe for juwar roti is simple and easy to understand. Simply take 1 cup juwar flour on a plate and add a little salt to it. Mix salt and flour and keep adding water in little quantity. Knead the dough very well with this mixture and keep it aside for 10-15 minutes. Prepare the rotis in a similar fashion as you prepare rotis of wheat flour and relish its nutritious taste with curries.
If you are fond of eating chillas or tikkis, you can even try
chickpea gram flour
or besen. It is nutritious and tasty also. If you are thinking about where to buy these flours, no need to fret. The best thing is that you can easily
buy all these flours online
in the UK as per usage. So, place your order today and gain hands-on experience of using these flours.