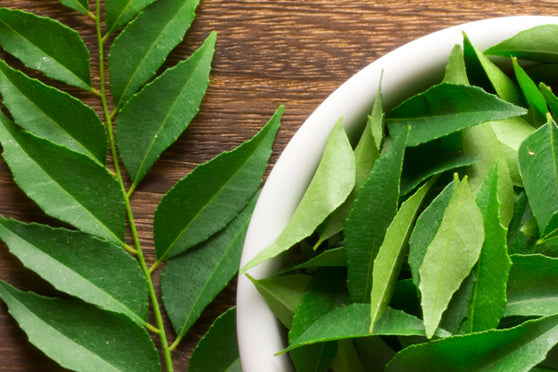 Apr 26, 2021
by

Neil Chotai
Curry leaves are one of the most flavourful and quintessential herbs from South India. Commonly used in Southeast Asian cuisines, these herbs do not have a dominant taste but they add a robust and richer flavour to soups, dals and curries. Curry leaves are glossy and vibrant green coloured leaves with tear-dropped shapes. In many countries, these leaves are also known as "sweet neem leaves'' as they belong to the citrus family and grow on the curry tree. Having a lemon scent, the taste of curry leaves is pungent and the taste often resembles lemongrass and anise. As per your requirements, you can easily buy curry leaves online from a reputed grocery store in the UK in both small and large quantities. 
When you go to the supermarket or buy curry leaves online, you might find curry powder in the stock. But believe it, both curry leaves and powder have different purposes and flavours. The basic difference is curry leaf is herb grown on the curry leaf tree whereas curry powder is not grown on any tree; it is a spice made from cumin, coriander, cayenne and turmeric instead. The curry leaf tree is mostly found in Sri Lanka and Southern India whereas the British introduced curry powder to give Indian dishes a flavourful taste. Now, let's discuss the ways to use curry leaves in cooking.
How to Use Curry Leaves in Cooking?
It is interesting to know that you have bought curry leaves and do not know how to use them. But do not fret as using curry leaves is very simple. But before using, the important point to remember is always to buy fresh curry leaves from an online store to get the required aroma and flavour in any dish. Some of the best ways to use curry leaves in daily cooking are as follows:
Sauté in Ghee: One of the best ways to include these leaves in your daily diet is simply sautéing 5-6 curry leaves in clarified butter or ghee to soften them. Simply stir them for three to five minutes and add in dishes like poha, curries, etc.
Making Tadka: Tadka is another popular way to use curry leaves in Indian cuisines. Simply add a mixture of mustard seeds, cumin seeds and 5-6 curry leaves in ghee or similar oil and sauté them together. Once they leave their aroma, you can start adding other spices. The other way is simply to make tadka of these three ingredients and pour over any curry or soup as a final step.
Flavouring Fish: If you like feasting upon fish, then you should buy curry leaves online from an authorized grocery store. You have two ways to use these leaves while preparing fish. The first way is heating oil in a pan, adding curry leaves into it and sautéing them. Remove the leaves from the oil and use the aromatic oil to add flavour to the fish dish. Another way is to glaze the fish with this oil before cooking it.
Best Recipes to Try with Curry Leaves
If you are using curry leaves for the first time in cooking, it makes sense to start with some of the easiest recipes. The simple and easy-to-try recipes at home are:
Rasam: If you go to South India, you cannot complete your meal without eating flavourful rasam. It is a tomato dish with rich flavours of Indian spices and herbs and often eaten as a soup or dip with other dishes. If you want to try it at home, here is the recipe. Simply add mustard seeds followed by 10-12 curry leaves, garlic, cumin seeds, asafoetida powder, chilli, garlic and sugar in the oil or ghee. Sauté these spices for 4-5 minutes before adding pureed tomatoes in large quantities. Keep the flame at a low point, simmer it for twenty minutes and your rasam is ready.
Rice with Curry Leaves: This is one of the easiest dishes to try and easy to pair with any curry or soup. Simply cook some basmati rice as per requirements. Now, prepare tadka in another pan by heating ghee, curry leaves, mustard seeds and chilli powder. Once tadka is prepared, add it to cooked rice.
Yellow Dal: This is one of the signature dishes of South India. Boil yellow dal in one pan and prepare tadka in another pan. For preparing tadka, add ghee, curry leaves, cumin, mustard seeds and onion. Sauté it for 5-7 minutes. Once it is ready, pour the tadka over yellow dal at least 15 minutes before serving so that dal absorbs all flavours. 
If you are thinking of buying curry leaves online in packaging like 200 grams or more, keep them fresh by storing them in an air-tight container. So, bring this flavourful herb and start enjoying recipes from today only.