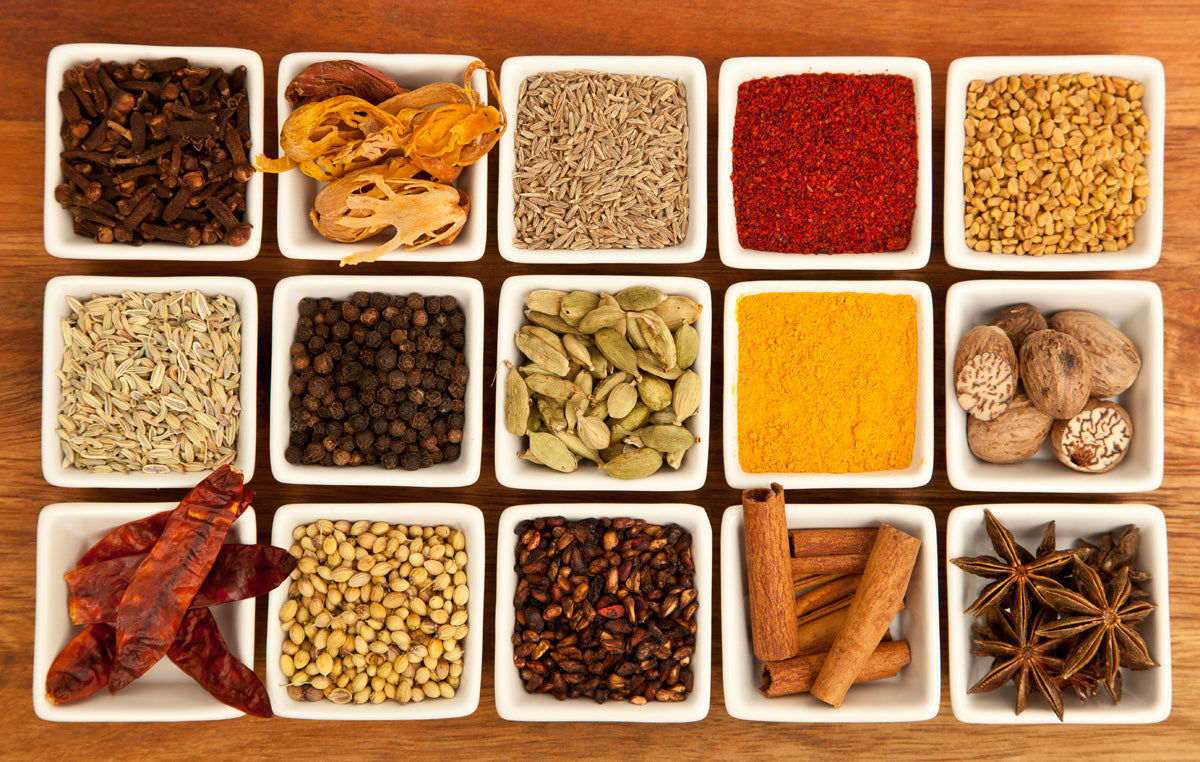 There is so much to Indian cuisines that one can treat their taste buds with multiple ranges of delicacies, including, the biryani, kebabs, makkai roti, dal pakwaan, thepla, gate ki sabji, idli, dosa, to name a few. And when you visit any Indian's home, you'll find their kitchen shelves stacked with spices of all kinds.
Spices are a must-to-have ingredient in every Indian kitchen. These spices not only accentuate taste and add a pop of colour but also bring in a host of health benefits.
It is believed that any dish that doesn't smell good, won't taste good either. The colour, aroma and good taste are all interconnected. Rich flavoured, aromatic spices are the heart of Indian cuisines. They are known for their strong flavours and captivating fragrance. Can you imagine making biryani without the whole spices? The aroma of spices gives dishes the flavour and the foundation to build its real taste.
The mystery box of every Indian kitchen is the wealth of spices sources from the best stores online. In a wide array of spices, there are a few essential spices that are a staple for Indian cooking. No matter whether you are away from the homeland, now you can buy Indian groceries online UK.  
Turmeric
The golden spice, turmeric, is one of the widely used ingredients in Indian cooking because of the colour and aroma it imparts to the food. Turmeric is also known for its extensive health benefits. In the Indian style of cooking, turmeric is almost every dishes at the beginning and sautéed with other ingredients and vegetables.
Cumin
Cumin seeds are small, aromatic, crescent-shaped seeds mostly used in its whole form. Having a strong aromatic flavour, cumin seeds gives a smoky taste to the many Indian dishes. This spice is used as tempering to famous Indian dish such as 'Dal Tadka' and the earthy flavour add excellence to any dishes you prepare. The spice is rich in manganese and also contain anti-carcinogenic properties.
Black Pepper
It is considered that Black Pepper  is the king of all spices. Most of the rich, flavoured Indian dishes would remain unpleasant if they lack the pungent taste and aroma of Black Pepper. These tiny fiery seeds are used in grilled vegetables, stews, soups etc. to add the needed fire and spice in your dishes. Rich in nutrients, Black pepper offers many health benefits. It helps indigestion, increasing metabolism and treating many skin problems. Indeed, it is the one important spice if you want to achieve a perfect combination of health and taste.
Coriander
Coriander has a significant role to play in Indian cooking and can be used in its whole or ground form. It is known for its strong aroma and is one of the most common ingredients used in making curry and gravy recipes. Besides adding a zing of taste, it is one of the most effective ingredients to help in proper blood circulation in the body. The cooling properties of coriander help in digestion. You can find the best quality whole and ground coriander  from Indian Grocery Store UK Online.
Cardamom
Cardamom is rich in strong flavour with mild pungency that add a pleasant aroma to Mughlai dishes and Indian desserts such as kheer and halwa. This spice can improve your digestion and lower blood pressure levels as it has immense health benefits. To find the best quality cardamom in UK, visit a genuine store and buy Indian Spices Online UK .
Cinnamon
Having a sweet and earthy flavour, cinnamon is available in powder and whole form. The whole spice is used in Biryani, Pulao in most parts of the country. The powder form is also widely used in baked desserts like cakes, baklava, churros,pies and cinnamon rolls. A lot of mixed spice seasoning, Garam Masala, and Curry Powder also uses cinnamon. You can visit any UK online store and Buy Ceylon Cinnamon Powder Online UK.
Nutmeg and Mace
Nutmeg and mace have a slightly spicy and delicate flavour.  It is used in both sweet and savoury dishes such as soups, Mughlai cuisine,and desserts like cakes, pies, custards, and puddings. Its oil has medicinal properties that can be used to treat cough and digestive ailments.
With the right proportion of spices, Indian food becomes an experience to relish. It is the richness and goodness of spices that make people all over the world strong admirer of Indian cooking. From the ancient to modern times, spices have occupied our lives, and the tradition has passed on from generation to generation. With genuine online store UK, you can now buy good quality authentic Indian spices in its whole or ground form with just a click. Get cooking with the spices from Indian Grocery Store UK Online.