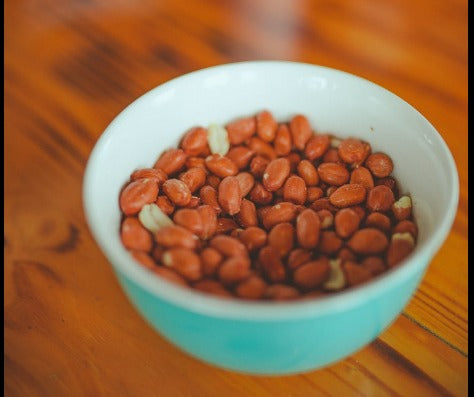 Sep 19, 2020
by

Neil Chotai
Surprisingly, redskin peanuts are not nuts; they belong to legume family instead. Peanut is a legume from the pea family and grown below ground. Primarily, peanuts were cultivated around 8000 years ago in Peru. From there, it spreads to various other regions like Uruguay, Brazil, Ecuador, etc. It is commonly grown in warm climatic conditions; therefore Asia, Africa, South and North America are the biggest growing nations of redskin peanuts.
One can find peanuts in scores of varieties, the most popular 4 varieties are:
Virginia Peanuts: This is in-the-shell peanut having the largest kernels. North Carolina and Virginia are the main producing areas of Virginia peanuts.
Runner Peanuts: Runner peanuts have a uniform size and used for making peanut butter due to its good flavour. It is mainly produced in Florida, Texas, Alabama, etc.
Spanish Peanuts: This kind of peanut has reddish-brown skin and has typically smaller kernels than other varieties. Texas, Oklahoma and South Africa are the main regions producing Spanish peanuts.
Valencia Peanuts: Valencia peanuts have bright-red skin and are easy to buy from the market both in in-the-shell and roasted form. Both retail and industrial customers can easily buy Valencia redskin peanuts online from well-established grocery stores.
Amongst all varieties, redskin peanuts are the most healthy and nutritious. Its redskin is a rich source of fiber and also contains resveratrol. It is the same antioxidant, which is available in red wine. Health experts as well as nutritionist recommend eating a handful of redskin peanuts to maintain your heart health.
There are scores of ways to include chopped, crushed or whole peanuts in your daily diet. The simplest way is to roast them and eat them as a mid-day healthy snack item. You can even add salt to roasted peanuts as per your tastes. For roasting, preheat oven to 350 degrees. Take a baking pan and place peanuts in them. Keep the pan in an oven and roast peanuts for 15-20 minutes.  Once they are ready, you can either eat them as a whole or crushed into small pieces and add it in your smoothie or in a fruit salad.
Lip Smacking Recipes of Redskin Peanuts
Peanut Granola: If you are buying redskin peanuts online for making any healthy snack for kids, peanut granola is the best choice. For this, you require gamut of ingredients right from brown sugar, vanilla extract, sunflower seeds to redskin peanuts. It is an easy-to-make recipe at home, which is healthy and tasty both. The best thing is this is one peanut recipe, which kids relish the most. So, satiate your kids hunger pangs with peanut granola.
Peanut Butter: If your family does not like munching peanut as a whole, you can give a try to peanut butter. For this, you require roasted peanuts and toss them in a food processor. Add a little honey for sweet taste and salt to make a thick and smooth paste. Use this butter as a spread on sandwiches and burger. The main advantage of making peanut butter at home is it does not contain any added preservatives and sugar. Moreover, it is healthy also.
Peanut Salad: If you are tired of eating fruit salad as a mid-day snack, switch to delectable veggie and peanut salad. For this, you need 1-2 cucumber, potatoes and crushed peanuts. Mix small pieces of tomatoes and cucumbers along with some salt in a bowl and toss well. Add the crushed pieces of redskin peanuts and add a tangy taste to it by squeezing lemon. Lastly, garnish it with coriander leaves.
Believe it, redskin peanuts are a great snack item for birds as well. If you own a big garden where squirrels and birds are a regular visitor, simply load your bird feeder with peanuts and see how quickly the feeder will become empty.
Redskin peanuts are so versatile legume that one can buy redskin peanuts online in a variety of forms. Salted peanuts, unsalted peanuts, sweet peanuts, roasted-n-shell, boiled peanuts, etc., are some of the varieties of peanuts easily available at reputed
UK based grocery stores
. These stores sell redskin peanuts in various quantities like 500 grams, 1 KG, 2 KGS and so on. So, next time you buy the peanuts, do not eat them only in a whole form; try different recipes to explore the versatility of this legume.