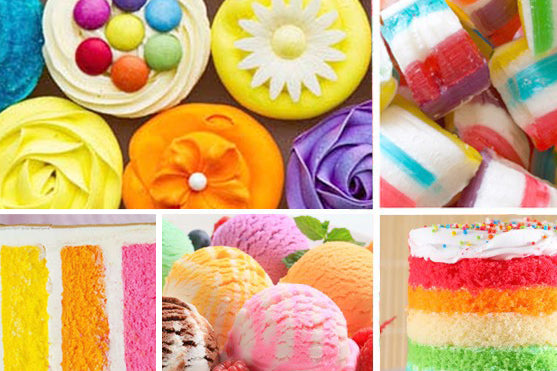 Oct 21, 2020
by

Neil Chotai
It is an unknown fact that food engaged the eyes first followed by fingers, tongue and the palate. If any food item that appeals to your eyes, it will automatically gives you an indication to eat it. Many kinds of research clearly indicate that "Colours" play a pivotal role in making a food item appetizing. And, this is the main reason that the bright coloured food items look eye appealing and draws attention of every food lover. Have you ever thought why we feel tempted to eat cakes and pastries? It is because their colourful designs look visually appealing. Moreover, cakes usually come in bright coloured like red, velvet, purple, etc. The cakes and other bright-coloured food item derive these colours from food colour powder and essence. The different food colour powders are available in the online marketplace. But, you can even prepare these food colour powder at home by making some effort.
It is a proven fact that synthetic food colouring does more harm than providing any benefit. The readymade food colour powder contains added preservatives or chemicals, and provides no nutritional value. So, it is advisable before buying food colour powder online, explore your kitchen to the fullest. And, you will be surprised to know that most of the food colours are easy to make at home by using some of the common kitchen ingredients. The benefits with homemade food colour powder are they are natural, contain no artificial colouring and preservatives. Above all, you are able to make these natural food colours at a fraction of cost as you only need vegetables, fruits and water.
For making the natural food colour powder and essence, you need to pick the right food item.
For Pink & Red Colour: For obtaining these vibrant colours, strawberries, raspberries and beetroots are the best options. Simply add these fruits and food items in a high-speed blender and mix them for making a smooth paste. You can strain this mixture if required. For getting a pink or red colour, you can add 1 teaspoon to frosting or icings. If you are looking for more colouring, increase the quantity to 2. If you store the mixture in an airtight container and keep it in a refrigerator, you can use it for 2 weeks. Another way of making homemade red colour is soaking rose petals in water for an hour and grinding them to make a fine powdered-like paste.
Yellow Colour: Nothing can give a bright yellow colour to gravies or cakes other than natural and healthy turmeric. For getting the bright yellow colour, take a saucepan and boil the water. Add raw turmeric pieces in the boiling water for 3-5 minutes and allow it to cool. You can add this paste in frostings and icings as per your requirements. Because turmeric leaves its sharp colour behind, thus wash your saucepan thoroughly to get rid from the bright yellow colour. If you do not like the smell of turmeric, you can shield it by using saffron. Believe it, making food colour powder at home is cost-effective than buying food colour powder online.
Green Colour: You will easily find scores of vegetables rich in green colour. Some of the best options to avail are spinach or spinach powder, matcha tea powder and parsley powder. Let's learn to make a green colour from fresh spinach. In a saucepan, take water and boil the spinach for five minutes. After this, drain and discard the liquid. Now, take a food processor or high-speed blender and blend the spinach by mixing some water so that it will become a smooth paste. Make sure to add water in a very little quantity like 1 teaspoon at a time to get the desired consistency. Strain the mixture and allow it to cool. This will become a perfect green food colour and essence that you can add in a number of dishes.
Purple Colour: Purple sweet potato and blueberries are the natural source for making purple food colour powder and essence. In most of the cases, chefs use blueberries for making a natural and vibrant purple colour. The procedure is same as followed with other colours. Many professional chefs even use beetroot powder or juice of this vegetable for making a purple colour. The purple colour made from the beetroot powder is ideal to add in gravies and cakes.
For orange colour, you can select carrot or powdered orange rind. The dark-brown colour cake obtain its colour by adding some cocoa powder. If you want the lighter shade of brown colour, you can prefer adding cinnamon powder also. These are the most common food colour powder available at the online marketplace. If you are preparing natural food colour powder and essence at home for the first time, make the powder in small quantities.
So, now it is up to you to decide whether to buy food colour powder online or prepare powder and essence at home by buying healthy vegetables and fruits.