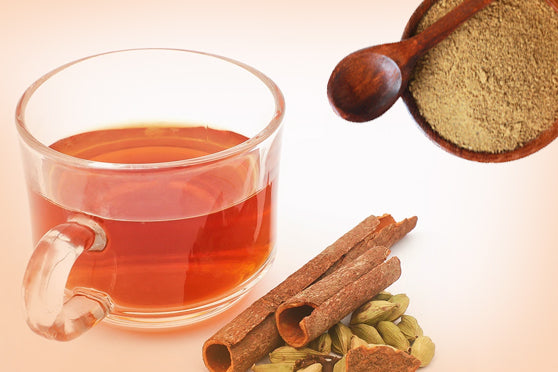 Feb 28, 2021
by

Neil Chotai
If you are travelling to a country like India, masala tea is the one beverage that you will find easily in every nook and corner regardless of the season. Popularly known as the flavoured tea, it is the elixir of life that kick-starts the day for most of the Indians on a positive note. You may feel that taste and ingredients of the masala tea vary from one state to another, but taking one sip of the tea will definitely melt your stress and fatigue in no time. Most of the households have their unique recipes for preparing tea masala, but some prefer buying tea masala online from a reputed grocery store either via an online or offline medium.
Before moving further, let's explore some of the interesting facts about masala tea or chai:
In India, tea is as common as a glass of beer in North America.
In India, you can easily purchase masala tea in as low as 5 Indian Rupees, which is not even equivalent to one cent of Canadian dollars.
It is not necessary to add sweetener and milk in masala tea. Adding these ingredients is purely optional.
Spices used in preparing tea masala like ginger, cardamom, cloves, black pepper, etc., provide a range of health benefits.
Though, the beverage originated in India but gained worldwide popularity in the last few decades. You can easily find masala tea in reputed restaurants and coffee shops worldwide.
Whether to Buy Tea Masala Online Or Prepare It at Home?
It is solely your discretion to buy or to prepare tea masala at home. In the marketplace, you will find different versions of masala tea containing different spices. However, if you want to try homemade tea masala, the recipe is simple and easy. Here, we are sharing details of the two most sought-after masala tea recipes with their required ingredients. You can choose any one of them as per your preferences.
Vegan Masala Tea Recipe: The ingredients required are raw sugar, loose black tea leaves, non-dairy milk and masala powder prepared from spices like cinnamon, cardamom, clove, black pepper, and ginger. Tulsi is one ingredient that is optional in the recipe.
Recipe:
Take a deep-bottomed pan and pour water into it.
Bring it to boil and then add sugar, tea leaves and masala powder. Add grated ginger and boil it for another 5 minutes.
When the mixture is boiling, add non-dairy milk slowly.
When the tea is boiled and you get the flavour of blended spices, turn the gas off and strain the tea into a cup.
Your hot masala tea is ready to enjoy!
Classic Masala Tea Recipe: This is another version of flavourful tea. The ingredients required are cardamom, cinnamon, sugar, milk, black pepper, clove, dried ginger powder and tea leaves.
Recipe:
The first step is grinding all spices in a food processor to make it a smooth powder. Do remember to remove the shells of the

 

cardamom

 

before grinding.
Now, take a pan and add water to it. When the water starts boiling, add tea leaves and freshly ground tea masala.
Add dried

 

ginger powder

 

and allow it to boil.
Add sugar and milk. This step is optional as you can even relish the taste of masala chai without sugar and milk.
After adding all ingredients, turn the flame low and allow the mixture to simmer for a couple of minutes.
Though you can try this healthy beverage at any time, sipping it with cutlets or pakodas increases the overall taste significantly.
If you are buying tea masala online, do not forget to check its expiry date as soon as you receive it. Even if you are experiencing any bad smell from the powder, discard it immediately. Whether you are using homemade or readymade chai masala, there are few precautions necessary to exercise to extend its shelf life. These precautions are as follows:
Always store the tea masala in a dry and air-tight container. 
Keep it away from the direct heat and sunlight.
Make sure to take the masala with a dry spoon only.
If you are preparing the masala for the first time, ensure to prepare it in a little quantity so that it is easy to use for 15-20 days.